I self-published in 1980. That's right: before it was easy, before it was cool.
I was fortunate enough to attend the University of Iowa, where if you aspire to write fiction, you'll get plenty of encouragement and support. I signed up for multiple sections of fiction writing, poetry writing, and the undergraduate workshop. Eventually I took so many creative writing classes that the registrar would not grant credit for all of them. (I graduated anyway, with a degree in Communication Studies.)
I also had a regular writing group, which met on the front porch at Joseph's house. I'm grateful for all the members of that group, including Lorraine, Kent, Harry, and Stephanie. Everybody who's serious about writing fiction should have a group of people they respect and admire, to critique and give feedback.
In spring 1980 I signed up for an Introduction to Typography class taught by Kay Amert. The final project for the class was to set type for a book, by hand, and to print copies, one page at a time, with ink rolled across the type.  We used letterpresses belonging to Windhover Press in the Journalism building.
I sweated Original Causes that whole semester, carrying around scraps of paper with test print paragraphs. It took many hours to hand-set the type, one letter at a time. The story went through multiple drafts with my group, and I appreciate their patience hearing it over and over.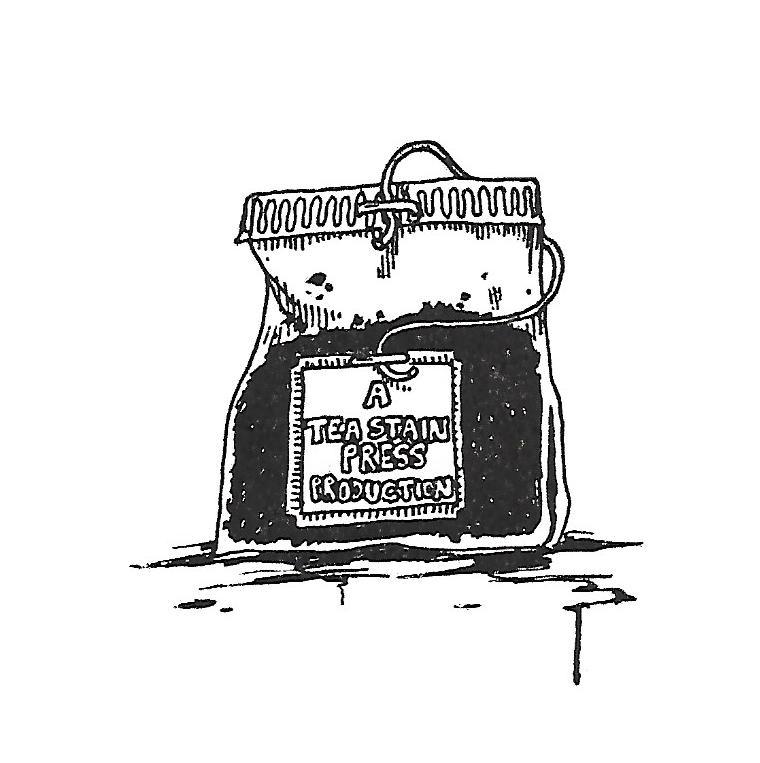 The extraordinary artist Jim Carpenter provided the illustration for the cover (copyright 1980 by Jim F. Carpenter, all rights reserved). It had been on a concert poster, and I repurposed it, with his permission. I revised my story to incorporate the cover scene. Carpenter also designed my logo for the Tea Stain Press.
I intended to print 100 copies of Original Causes, but I screwed up cutting the paper for the cover, and as a result I could only produce 75. The book earned me a B for the course. I made quite a few poor design decisions, most notably using too big a typeface on the cover. My margins were misplaced as well. Since every book was printed by hand, some of the copies were in better shape than others.
And yeah, Original Causes was for sale at the Prairie Lights Bookstore, where they had a rack for independently-published authors. At a buck a pop, I sold five copies, which didn't put me on any bestseller lists. I gave away the rest of the press run, and now I only have one copy left. Here's a PDF scan of my last remaining copy of Original Causes, copyright 1980, all rights reserved.
Hoping to get around to the sequel eventually.